Poor handling of handwritten menu sends brand health scores in decline
Up until recently, national carrier Garuda Indonesia has enjoyed great brand health, consistently ranking first in all YouGov rankings for consecutive years. The brand's latest corporate blunder however, has sent Plan & Track brand health scores in decline.
When viral photos of a handwritten menu posted by a vlogger made its round on the Internet, Garuda Indonesia responded by banning all in-flight photos and filing a police report against the vlogger. Though it later retracted the ban and police report, the brands' response to the inflight menu gaffe left a bad taste in Indonesians mouths and by members of the press.
Garuda Indonesia's Buzz score – which measures whether one has heard positive or negative things about the brand fell drastically since the incident. On the day of the announcement of the ban, its Buzz score was at a healthy +55.4. Today it stands at +31.6, dropping 23.8 points.
Other metrics were also affected. Its Impression score, which looks at whether one has a positive or negative impression of a brand fell from +65.0 to +52.0, falling 13 points. Indonesians are also now less likely to recommend Garuda Indonesia, with its Recommend score falling from +69.4 to +56.8 a drop of 12.6 points.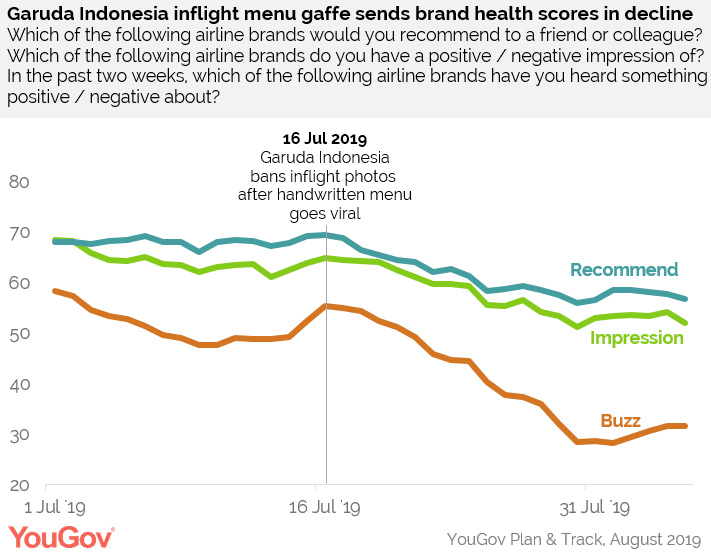 This decline in brand health could mean bad news for the brand, who recently announced a USD175m million loss.
Ervin Ha, Head of Data Products for YouGov APAC commented: "It is rare to see a big brand like Garuda have such a big drop in brand health metrics, particularly one that tends to rank so highly amongst Indonesians. However, its poor choices are reflected clearly in its scores. This incident is a good case study for other brands on how to handle mistakes, as Indonesian customers are quick to notice and react."