This month, budget accommodation booking platform RedDoorz is the brand that has achieved the highest uplift in its Ad Awareness over the past month.
The rise coincides with their latest #BisaAja campaign, which encourages consumers to book accommodation via their platform. The ad has over six million views on YouTube alone.
Launched a month ago, the advertisement features three different travel scenarios. The first is a pair of siblings invited to engagement party in a village, who end up sleeping on a crowded floor with relatives. The second is a man sent on a business trip, who arrives at this destination only be harassed by touters. The third is a group of friends that realise their accommodation has been falsely advertised, and is falling apart. The ad concludes with showing the RedDoorz platform, which makes finding reliable and affordable accommodation easy.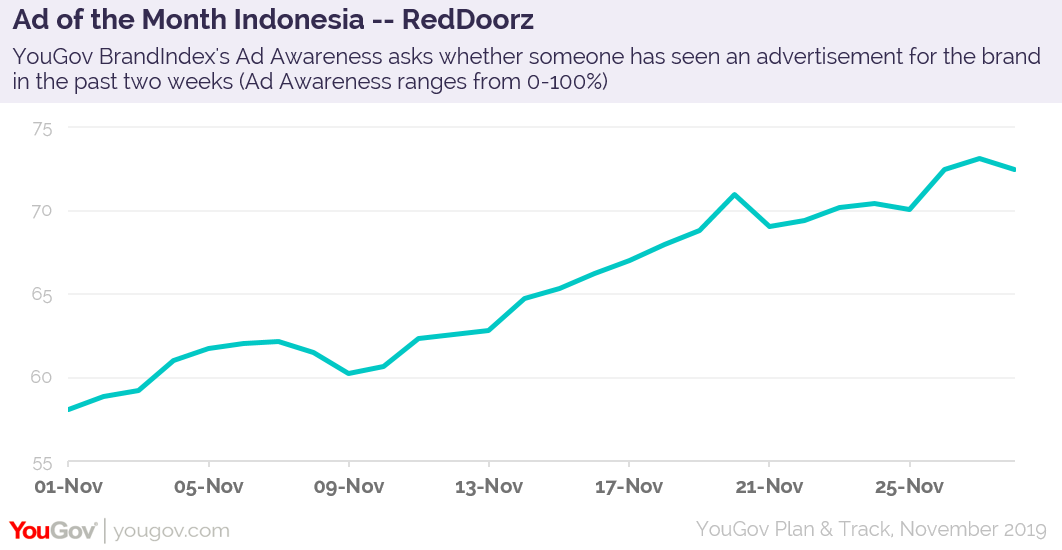 YouGov BrandIndex data shows that RedDoorz's ads have captured Indonesians attention. RedDoorz's Ad Awareness score (whether someone has seen an advert for the brand in the past two weeks) has risen from 58.1 to 72.5, jumping +14.4 points.
Indonesians are not only noticing RedDoorz ads, the brand has also seen an increase in Buzz with their score on this metric jumping from 58.5 to 66.3. The increase of +7.8 points shows that more people are talking about the brand in the past month.