The e-commerce brand takes the top spot for the first time
Southeast Asian e-commerce platform heads YouGov's annual BrandIndex Buzz Rankings in Indonesia, taking the top spot for the first time.
YouGov BrandIndex measures the public's perception of brands on a daily basis across a range of measures. The annual rankings are compiled using Buzz scores from across all 52 weeks of last year. Buzz scores measure whether people have heard anything good or bad about a brand during the previous two weeks.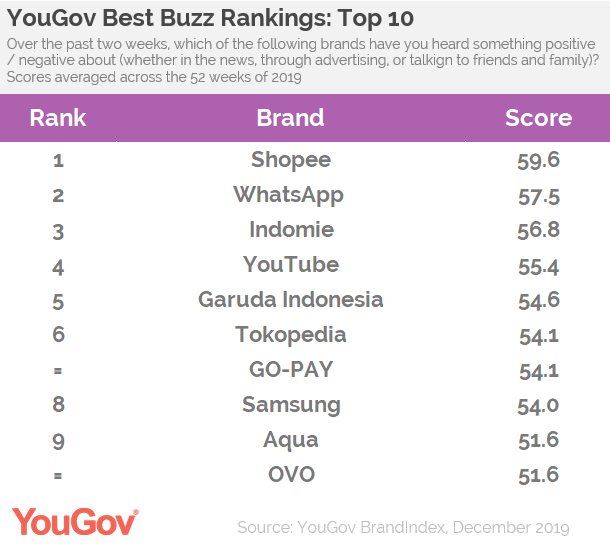 Digital brands generally do well on the list. Instant messaging platform WhatsApp comes in second (57.5), video-sharing platform YouTube in third (56.8), local e-commerce site Tokopedia in joint sixth with digital wallet GO-PAY (54.1), South Korean electronics manufacturer Samsung in eighth (54.0) and local digital payment platform OVO in joint ninth (51.6).
F&B brands also have a prominent spot in the top ten. Instant noodle brand Indomie is in third (56.8) and mineral water brand Aqua in joint ninth (51.6). The list is completed by national carrier Garuda Indonesia in fifth (54.6), who previously held the top spot for the past four years running.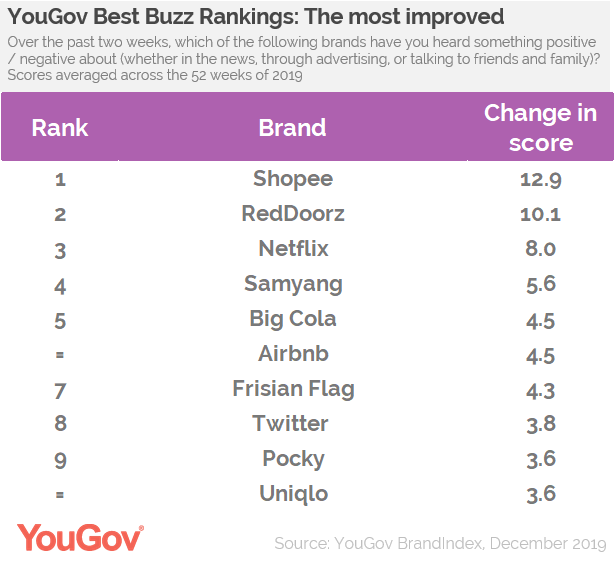 YouGov also reveals which brands have the most improved Buzz scores. Shopee again tops the list in this regard, with a rise of 12.9 points. It is followed by budget accommodation booking platform RedDoorz (up +10.1 points) and subscription video-on-demand service Netflix (up +8.0 points).
Ervin Ha, Head of Data Products commented: "In an increasingly crowded e-commerce space, Shopee has managed to come out on top not only as the most positively talked about e-commerce brand – but overall brand in the nation. Whether their innovative campaigns or securing global superstars as ambassadors, Shopee has effectively won over Indonesians."