Welcome to YouGov Impression Rankings 2021 Indonesia: Telco!
Many places across the globe have practised social distancing due to COVID-19 over the past year. Indonesia is no exception. This causes the shift of Indonesians' living behaviour from offline to online, potentially creating more demand for telco services. In view of this, YouGov has examined how Indonesians perceive different telco brands in the past 12 months, with the launch of YouGov Impression Rankings 2021 Indonesia: Telco!
The rankings data is drawn from our daily brand tracking tool BrandIndex, which measures the public's perception of thousands of brands every day across 40 sectors.
Check out the below rankings to see which telco brands have made the top 10 list in Indonesia!
Best Impression 2021 Indonesia: Telco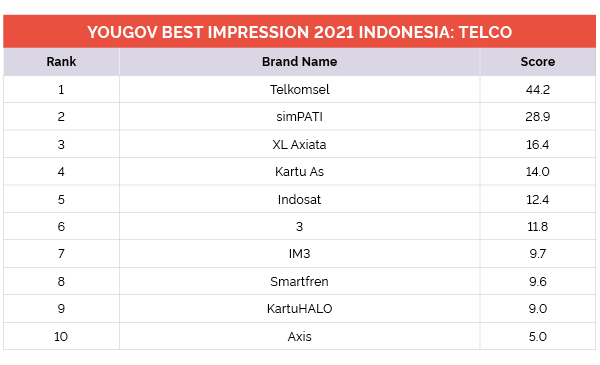 Contact us now to learn more about the Telco rankings in Indonesia:
Methodology:
The 12 eligible telco brands in YouGov Impression Rankings 2021 Indonesia: Telco were ranked based on the Impression score, which asks respondents, "Overall, of which of the following brands do you have a Positive/ Negative impression?" Scores are net scores, calculated by subtracting the percentage of negative responses from the percentage of positive responses for each brand.
The Best Impression 2021 Indonesia: Telco chart shows the brands with the highest average Impression scores amongst telco brands in Indonesia between February 1st, 2020 and January 31st, 2021. Scores are representative of the general population.
All Impression scores listed have been rounded to a single decimal place; however, we have used additional precision to assign ranks.
All brands must be tracked for at least 6 months to be included in the rankings (as well as being currently tracked).