The rankings reveal the brands that enjoy the best brand health among Indonesians
Pepsodent and Lifebouy dominate the rankings within the 'Personal Care' category
Local Indonesian brands feature prominently in the 'Beverages & Cooking Ingredients' category
Indomie sits ahead of Oreo in the 'Packaged Food' category
Unilever's Sunlight, Rinso and Molto make the top three brands under the 'Household Care' category
YouGov's FMCG/CPG Rankings 2021 reveal Pepsodent, Aqua, Indofood, Indomie and Sunlight are the FMCG brands that enjoy the best brand health among Indonesians.
The FMCG rankings in Indonesia are divided into five sub-categories: Personal Care, Beverages, Cooking Ingredients, Packaged Food and Household Care. Each category features the top ten brands that have the best brand image.
The rankings are compiled using YouGov BrandIndex Index score, a measure of overall brand health calculated by taking the average of Impression, Quality, Value, Satisfaction, Recommend and Reputation scores. The rankings are measured from 1st August 2020 to 31st July 2021.
Personal Care
YouGov's FMCG/CPG Rankings 2021 reveal that Pepsodent (50.1) is the healthiest brand in Indonesia under the personal care category. The oral health brand is far ahead of soap brand, Lifebouy and hygiene brand Dettol who are placed in second (39.1) and third (36.6), respectively. These brands have had a strong year amidst the pandemic that put a focus on personal hygiene.
Cosmestic brand Wardah holds its position in the fourth place (31.0), followed by Vaseline in fifth (28.6).
Rexona, that managed to create a lot of noise in Indonesia with its #MoveYourWay campaign, is placed in sixth (27.2) in the list along with its sub-brand Rexona Men in tenth (21.3)
The top ten list for 'Personal Care' category is completed with popular global brands such as Nivea, Pantene and Dove in seventh (24.1), eighth (22.8) and ninth (21.7) respectively.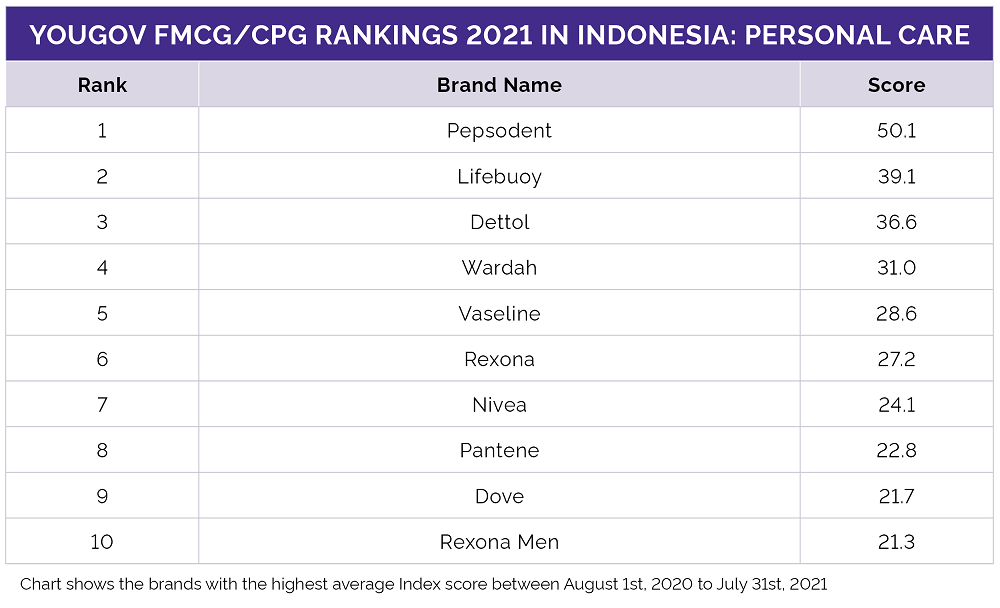 Beverages
Under the Beverages section, the pioneer of bottled drinking water in Indonesia- Aqua takes the top spot in the rankings with a score of 54.8. Popular beverage brand Yakult is a close second (50.2), followed by Japanese brand Pocari Sweat in the third place (40.6).
The top 10 list under Beverages is heavily dominated by the local Indonesian brands. Le Minerale appears in the fourth place (39.3) while Indonesian coffee brand Good Day secures the fifth spot (26.8), followed by Cimory and Teh Botol Sosro in sixth (26.6) and seventh (26.0).
Along with these, other local brands to make an appearance in the list are NutriSari (25.7), Buavita (24.7) and Teh Pucuk Harum (24.3).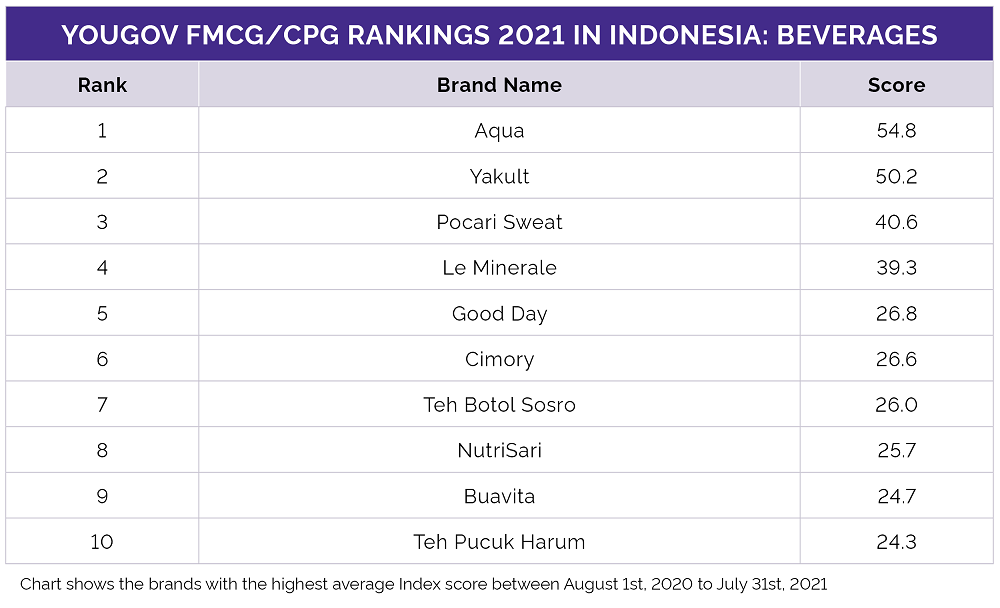 Cooking Ingredients
Within 'Cooking Ingredients' category, Indofood leads as the top brand with an Index score of 50.1. Sweet soy sauce brand Bango takes the second place (41.9) followed by Blue Band in third (40.8) and ABC in fourth (37.3).
Homegrown brands feature prominently in this category as well. Royco- the brand famous for its instant seasoning- is fifth (32.8) in the list, while Bimoli (28.8), Masako (24.1), Sedaap (21.5), Sajiku (20.1) and Saori (19.8) occupy the next five spots, completing Indonesia's top 10 list for cooking ingredients.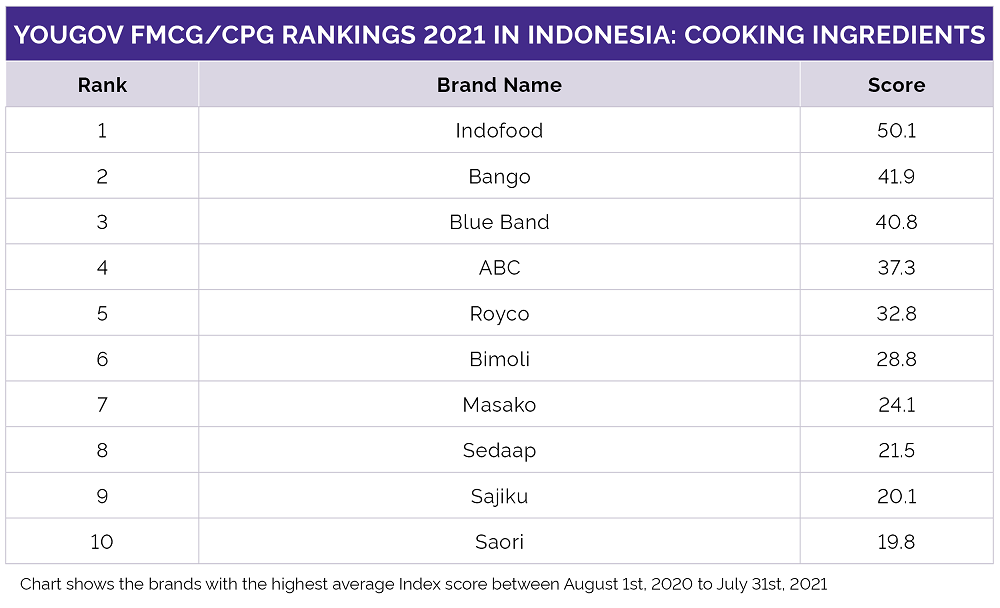 Packaged Food
In the 'Packaged Food' category, Indonesia's pioneer instant noodle brand Indomie emerged as the top-ranked brand (65.2), sitting ahead of Oreo that occupies the second place (42.1).
Dairy brand Frisian Flag came in third (37.8), followed by Dawcow, Tango, Mie Sedaap taking the fourth (35.6), fifth (34.1) and sixth (33.0) place respectively.
Snacking brands enjoy strong affinity among Indonesians. Biscuit brand Good time is placed in the seventh (32.8) and Kacang Garuda appears in eight (31.3) along with Roma and Chocolatos in the ninth (30.1) and tenth (29.9), respectively.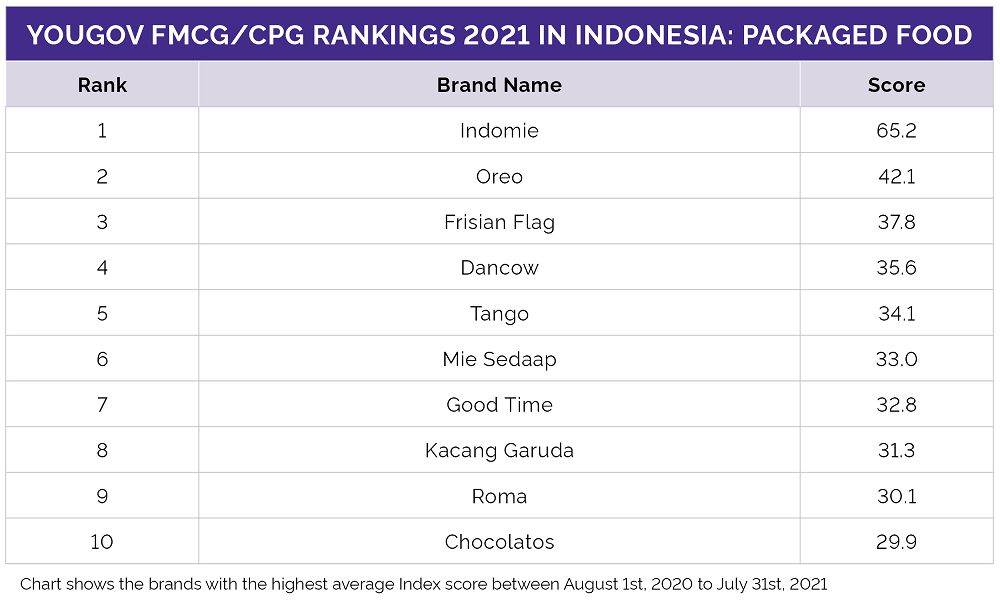 Household Care
The 'Household Care' category features Unilever's famous dishwashing brand Sunlight (52.9) at the top, followed by its detergent brands Rinso in second (42.3) and Malto in third (40.1).
Next in the list are Downy in fourth (38.5), Mama Lemon in fifth (28.6) and Paseo in the sixth place (26.5).
The remaining brands that make the top 10 list for the household care category in Indonesia are SoKlin placed in seventh (25.6), Baygon at eight (24.0), Wipol at nine (23.1) and Super Pell at ten (20.8).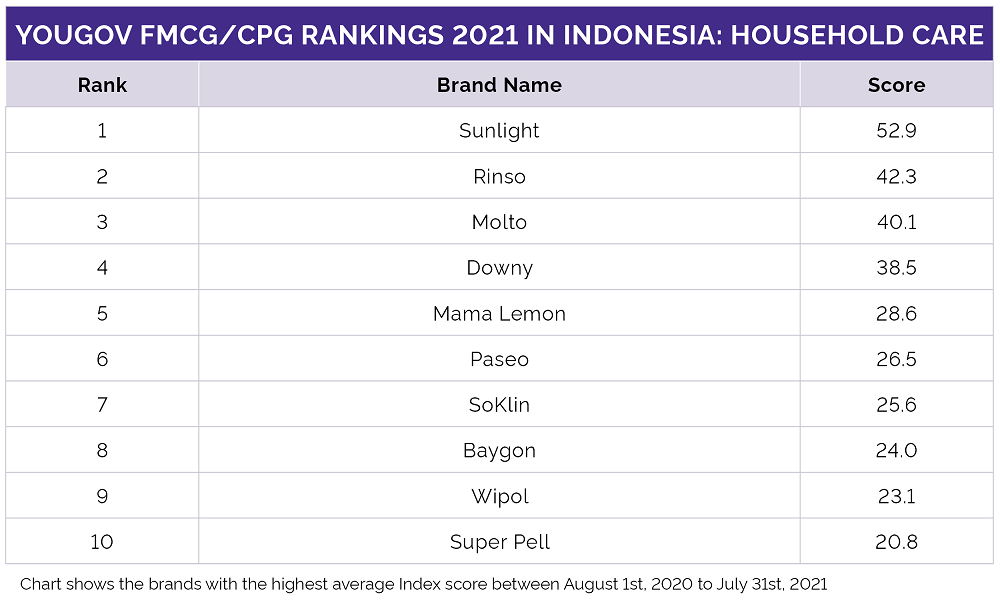 Methodology
The brands in YouGov FMCG/CPG Rankings were ranked based on their Index score, which is a measure of overall brand health calculated by taking the average of Impression, Quality, Value, Satisfaction, Recommend and Reputation over a period of 12 months.
The rankings chart shows the brands with the highest average index score between August 1st 2020 until July 31st 2021. The scores are representative of the general population of adults 18+ (some are online representative).
All scores listed have been rounded to a single decimal place; however, we have used additional precision to assign ranks. All brands have been tracked for at least 6 months to be included in the rankings.
About YouGov
YouGov is an international research and data analytics group.
Our mission is to supply a continuous stream of accurate data into what the world thinks, so that organisations can better serve the communities that sustain them.
Our 15 million registered members provide us with a highly engaged proprietary panel that delivers thousands of data points on consumer opinions, attitudes and behaviour on a daily basis. We combine this continuous stream of data with our research expertise to provide insights that enable intelligent decision-making and informed conversations.
With operations in the UK, North America, Mainland Europe, the Nordics, the Middle East, India and Asia Pacific, YouGov has one of the world's largest research networks.
YouGov
Best panel
Best data
Best tools
For further information visit yougov.com/fmcg