The e-commerce platform has maintained the top spot since its debut on the rankings in 2019
Southeast Asian e-commerce platform Shopee has once again topped the charts for YouGov's annual BrandIndex Buzz Rankings with a score of 66.9, retaining its title as the most talked about brand in Indonesia for the year 2021.
YouGov BrandIndex measures the public's perception of brands on a daily basis across a range of measures. The annual rankings are compiled using Buzz scores from across all 52 weeks of last year. Buzz scores measure whether people have heard anything good or bad about a brand during the previous two weeks.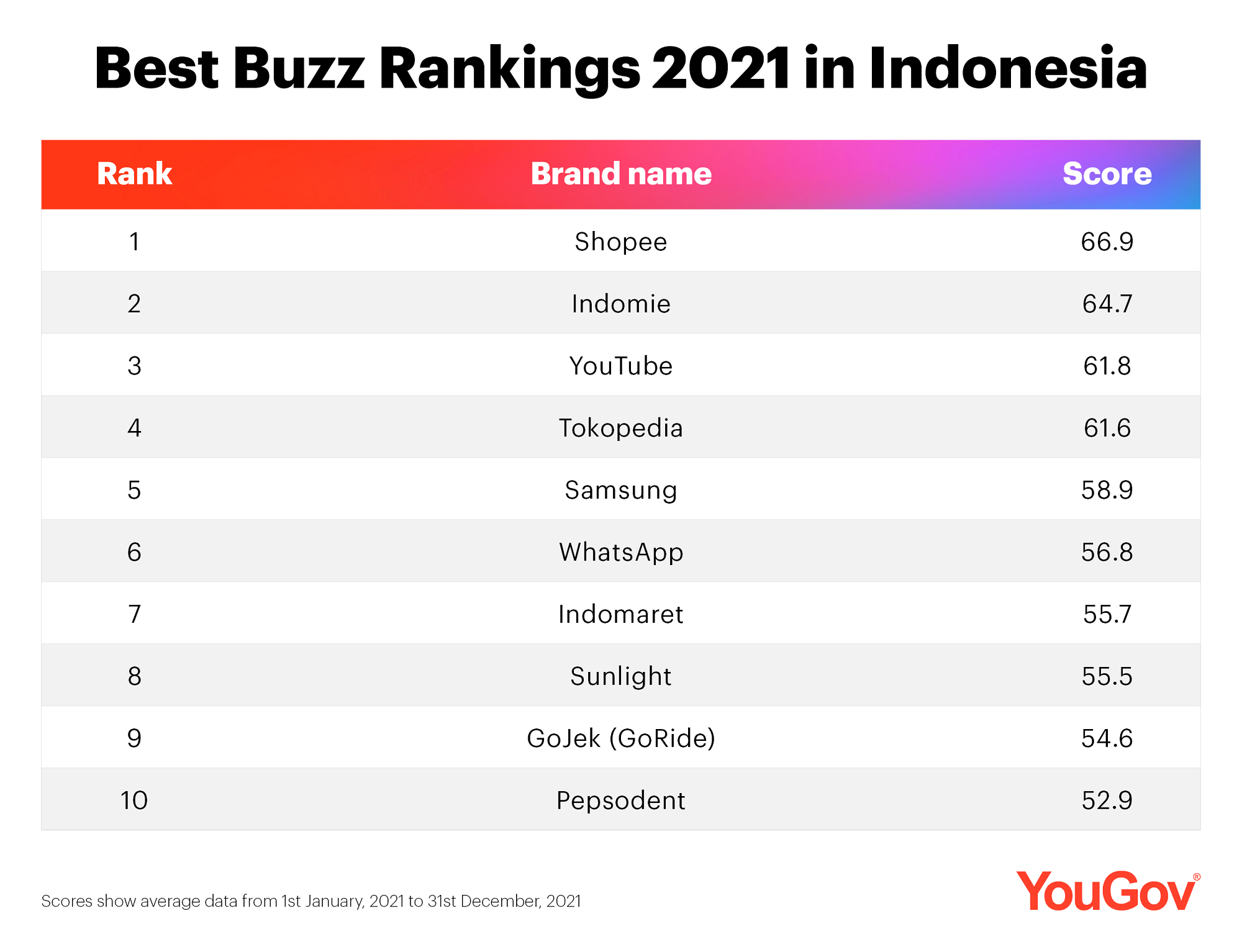 Homegrown instant noodle brand Indomie came in second place (64.7), followed by YouTube in third (61.8).
Along with Shopee, fellow e-commerce platform Tokyopedia came in fourth (61.6), up from sixth last year.
Other domestic brands to feature in the top ten were convenience store chain Indomaret in seventh place (55.7); and on-demand ride-hailing service GoJek (GoRide) in ninth place (54.6).
Social media platforms were another group that made a strong showing in this year's list. Although YouTube moved up one spot to third this year, WhatsApp fell from last year's second position to come in sixth (56.8) in the 2021 rankings.
Multinational electronics corporation Samsung remains in fifth this year as well, while Unilever subsidiaries Sunlight and Pepsodent came in eighth (55.5) and tenth (52.9) respectively, rounding off this year's rankings.
YouGov BrandIndex has also released the ten "most improved" brands of the past year. This year's list was topped by Chinese video-focused social networking brand TikTok – which unveiled its TikTok Shop vertical in Indonesia last year – with an improved score of +12.5 points. This was followed by instant messaging service Telegram (+9.6 points).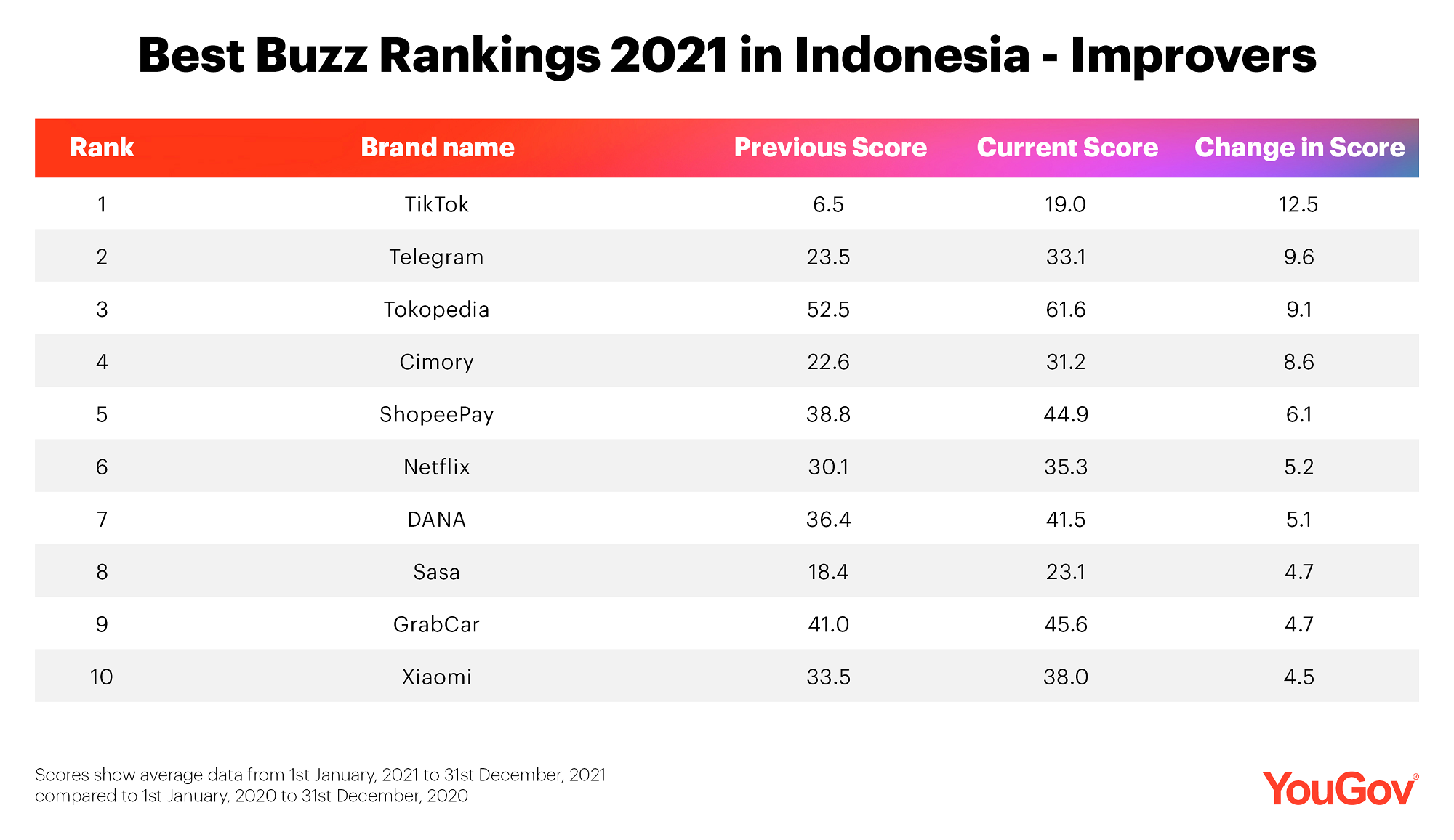 Many Indonesian-based firms made strong improvements to their scores as well, such as e-commerce platform Tokyopedia (+9.1 points), dairy firm Cimory (+8.6 points), e-wallet DANA (+5.1 points) and local seasoning brand Sasa (+4.7 points).
These were joined by ShopeePay (+6.1 points) – one of Indonesia's top e-wallets in 2021 – and Netflix (+5.2 points), which were the fifth and sixth most improved respectively.
Completing the top ten most improved brands are Singapore-based ride-hailing service GrabCar (+4.7 points) and Chinese software and electronics manufacturer Xiaomi (+4.5 points).
Download the full Buzz Rankings 2021 report here.
Methodology: 
The brands in YouGov Best Buzz Rankings 2021 were ranked based on the Buzz score, which asks respondents, "If you've heard anything about the brand in the last two weeks, through advertising, news or word of mouth, was it positive or negative?" Scores are net scores, calculated by subtracting the percentage of negative responses from the percentage of positive responses for each brand.
The Buzz Rankings chart shows the brands with the highest average Buzz scores between January 1st and December 31st, 2021. The Buzz Improvers chart ranks the brands with the highest increase in Buzz comparing scores in years 2020 and 2021, to be included in the Buzz Improvers list, the variance must be positive. Both scores are online representative.
All Buzz scores listed have been rounded to a single decimal place; however, we have used additional precision to assign ranks.
All brands must be tracked for at least 6 months to be included in the rankings and have been tracked for at least 6 months in the prior year's period (as well as being currently tracked) to appear in the Improvers tables.